Suited. Directed by Jason Benjamin. New York: Films Media Group, 2016. 85 minutes.
Pride Denied: Homonationalism and the Future of Queer Politics. Directed by Kami Chisholm. Northampton, MA: Media Education Foundation, 2016. 61 minutes.
Suited is a feature-length documentary about the Brooklyn-based tailoring company Bindle & Keep creating beautiful bespoke suits for a transgender and gender nonconforming clientele. The storytelling is structured through the experiences of six Bindle & Keep clients, especially one white trans man from Appalachia buying a suit for his wedding and a black trans man getting suited up for interviews with law firms. The documentary features background stories about those clients, their consultations with Bindle & Keep, and the final suit fitting to highlight the emotional impact of defying the conventions of cisgender design. As reviews of the film in popular publications have pointed out, it is an extended advertisement for Bindle & Keep that has the feel of makeover TV.1 It admittedly worked on us: having watched Suited for this review, we ordered suits through Bindle & Keep for our wedding—to the tune of $1250 for Miranda's two-piece and $2050 for Erin's three-piece. (As you can imagine, prices are not included in the documentary.)
After pondering the question of how we might teach Suited, the truthful answer is that we wouldn't, given the wide variety of great materials available to teach queer and transgender studies. While the film does not quite suggest that "one woke in the morning, perused the closet or some more open space for the gender of choice, donned that gender for the day, and then restored the garment to its place at night," as Judith Butler described a problematic potential misunderstanding (because it is reiterative of a humanistic "choosing" subject) of her theory of gender performativity, it certainly does suggest that already-formed genders can be intentionally realized and expressed through consumer practices.2 For feminist teachers who want to get beyond the buying-expensive-tailored-clothes-makes-me-feel-better-in-my-gender-identity message of the film toward an intersectional and transnational analysis of transgender fashion, we suggest offering instead Francisco J. Galarte's "Fashion-ing Pedagogies" in Transgender Studies Quarterly and the Otherwise podcast episode "Imagine Otherwise: Francisco Galarte on Chicanx Transgender Style," which recognize the affective value of clothes (especially those made by hand and worn over time) without simply celebrating consumer agency.3
Perhaps the best use for Suited is inviting students to apply their knowledge from class with the provocation, "Is this film feminist?" While one might argue that representations of gender diversity constitute a version of millennial feminism that is broadly transfeminist (though not by Emi Koyama's definition), we maintain that the film is not feminist.4 For instance, it fails the Bechdel-Wallace test, a feminist media literacy tool with the qualifications that a piece 1) have at least two women in it who 2) talk to each other 3) about something other than a man. There are five women in Suited—notably all white—and they do not interact with each other: three family members of clients, one client who is a transgender woman, and an unnamed woman shown sewing at Bindle & Keep. The first three have supportive, secondary roles to their transmasculine family members. The client, Jillian, is arranging for a suit to argue a landmark transgender rights case in federal court. Notably, her story is less filled out than the transmasculine or nonbinary clients who are featured in the stories of self-realization that organize the film; and she is the only one whom viewers do not see returning for a fitting. But the director's decision to relegate a Bindle & Keep staff member to the background (giving the impression that the suits are made by her in the store, though we found out later that they are made in Singapore and altered by her between fittings) is what we find most troubling, especially since she was described to us in person at Bindle & Keep as the "backbone" of the company. In this way and many others, the documentary renders invisible the gendered and racialized labor of the fashion industry.5 We have more concerns about Suited worth elucidating: the disappearance of critiques of capitalism (target markets, gentrification, inherited wealth), the suturing of "trans" and "surgery" in the main storyline, and affirming the idea of black intolerance (in that the only black client's family is described as unsupportive, while the primary white client's family is shown as nothing but).
If Suited lacks what we see as a necessary critique of capitalism and gendered labor, Pride Denied might appear to be the antidote. It is a one-hour film centering a critique of homonationalism through the corporatization of Pride events (primarily the Toronto 2014 World Pride) and the deployment of LGBTI and gay rights in support of conservative and violent political and economic interests. The film is primarily composed of statements by scholars and activists who appear as talking heads and/or voices that talk over images. (They must have been interviewed, but in traditional unreflexive documentary style, no interviewers or interview questions are seen or heard in the film.) Many of the speakers are well-known scholars in contemporary queer studies, such as Christina Hanhardt, Dean Spade, and Jasbir Puar. They do an excellent job of explaining complex histories and what would be, for many students, unfamiliar and challenging theoretical and political concepts. The images that accompany their voices include clips of queer and trans* people of color marching in protests and parades, white mainstream gay people celebrating the right to marry or serve as elected officials at the corporate-sponsored pride events, advertisements to lesbian and gay people by corporations (e.g., banks, pharmaceutical companies, fast-food brands, major technology companies, and online retail and cloud-service companies), and the devastation of Gaza, the Palestinian territory mentioned during the discussion of Israel's pinkwashing (the deployment of supposed gay friendliness by the Israeli state to cover its genocidal violence toward Palestinians).6
The core argument of the first portion of the film is that the corporatization of pride events represents a loss of authenticity. Again and again, the speakers state that pride events were once an expression of community by radical queers of color but that corporate sponsorship no longer honors that history. The second portion provides a lengthy explanation of pinkwashing. The film covers a number of cases: the first and most extensive focuses on Israel's pinkwashing of its violence toward Palestinians. The film then turns to the promotion of oil sands exploitation in Canada through claims that oil-producing countries in the Middle East are anti-gay. Finally, it takes up the participation of police in gay pride events as pinkwashing of police violence against black people in the context of Black Lives Matter.
Covering so much ground in an hour, this film leaves us wondering how it would work in a course. It would have to be handled very carefully, as a summary or introduction followed by much slower and more deliberate development of critical theoretical analytic tools and political and historical knowledge. Even then, and despite the highly nuanced work and words of the featured scholars (for instance, in one segment, Hanhardt explicitly complicates the teleological narrative of cooptation to which the film means for her to contribute), the film might do more harm than good in its simplification of the world into good radical guys/gays and bad mainstream ones, missing the important complicities, interdependencies, and contradictions through which our lives are constituted.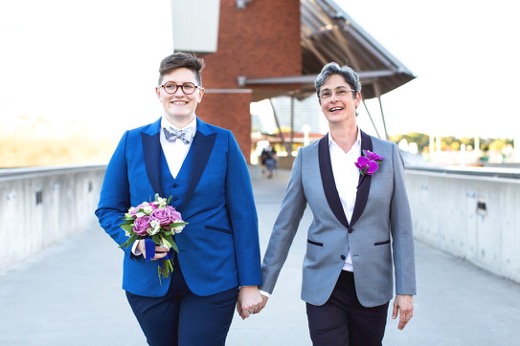 Erin L. Durban (L) and Miranda Joseph (R) wearing their Bindle & Keep suits.
1 Guy Lodge, "Film Review: 'Suited,'" Variety, February 8, 2016.
2 Judith Butler, Bodies That Matter: On the Discursive Limits of "Sex" (New York: Routledge, 1993), x.
3 Francisco J. Galarte, "Fashion-ing Pedagogies," TSQ 2, no. 3 (August 2015): 519-21; Francisco Galarte, "Imagine Otherwise: Francisco Galarte on Chicanx Transgender Style," interview by Priyanka Kaura, Ideas on Fire, March 7, 2017.
4 Emi Koyama, "The Transfeminist Manifesto," in Catching a Wave: Reclaiming Feminism for the Twenty-First Century, edited by Rory Dicker and Alison Piepmeier (Boston: Northeastern University Press, 2003), 244-59.
5 See Elizabeth Verklan's scholarship, such as her forthcoming award-winning monograph Seeing Labor (University of Illinois Press) and her review of films about the fashion industry in Films for the Feminist Classroom (9, no. 1 [2019]).
6 For more on pinkwashing, see Sarah Schulman, "Israel and 'Pinkwashing,'" New York Times, November 22, 2011, and the documentary Pinkwashing Exposed (dir. Dean Spade [Seattle: 13th Avenue Productions 2015]), 56 minutes.